Dr. Sara Gottfried's Hormone Balancing Shake Sales
Dr. Sara Reveals . . .
How To LOSE WEIGHT And BALANCE
YOUR HORMONES (Naturally)
My Personal Secret to Staying Slim
From the office of
Dr. Sara Gottfried, M.D.
Harvard-Educated Physician
Board-Certified in Obstetrics and Gynecology
Author of The Hormone Cure
Dear Friend,
Do you struggle to lose weight and keep it off?
Have you noticed changes in your metabolism as you've gotten older – and worry that you won't be able to maintain your figure into your 30s, 40s, 50s and beyond?
Or maybe you're just frustrated by fad diets that focus only on weight loss – and ignore the critical factors of nutrition and whole body wellness.
I'm right there with you.
In fact, I spent a lot of my 20s and 30s feeling fat, frumpy, and totally unsexy.
So I started searching for a solution.
As I talked to my girlfriends, clients and other women about this I quickly discovered – not the answers I was looking for – but rather, more questions. Turns out, I wasn't alone in my struggle. Not by a long shot.
These are a few of the challenges women shared with me:
"I'm just too busy to focus on my health. Between my busy work schedule, raising my kids, and taking care of my sick mother, I can barely find time to get a full night's sleep – let alone eat well and exercise."

"I've been in a constant battle with my weight for years. I've tried every diet out there. Sometimes I lose 5, 10 or even 20 pounds. But I just can't sustain it. Maybe it's just genetics. Maybe I'm doomed to be fat, no matter what I do."

"I've always been fairly slim and fit. I eat well and work out a few times a week, and I've never had to worry much about my weight. But over the past couple of years I've noticed a shift. I'm

gaining weight and losing muscle in all the wrong places

– and nothing I do seems to help. I'm worried this will get out of control if I don't figure out a way to stop it soon."

And thousands more stories like this . . .
What began as my personal quest to lose weight and feel great soon turned into much more than that. It became a mission – to help millions of women around the world feel healthier, slimmer, happier and sexier than ever . . . without fad dieting, dangerous supplements or invasive surgery.
Today, I want to share one of the most powerful solutions I've discovered over the past 20 years that I've been working as a Harvard-trained M.D. for over 20,000 women.
Not only do I recommend this to my private clients who are struggling with weight or nutrition deficiencies. I have also personally used it to shed the extra weight I gained in my 20s – and stay slim and hormonally-balanced ever since.
Now that my book is a New York Times Bestseller (humbly grateful), I've realized that this is the chance I've been looking for – to help women on a much larger scale.
I can't keep this weight-loss secret all to myself and my private clients anymore . . .

Which is why I'm delighted to announce the public release of:
Dr. Sara Gottfried's Reset360
All-In-One Shakes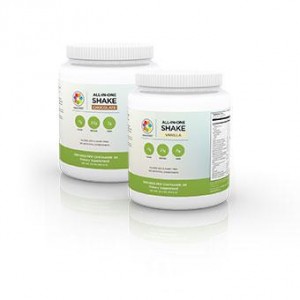 A Plant-Based Multi-Nutrient Protein Complex
(Available In Both Chocolate And Vanilla Flavors)
Not Your Average Protein Powder . . .
I've tried every protein powder and nutritional supplement out there, and none of them come close to the delicious flavor, taste and texture of this non-whey, vegetable-based, multi-nutrient mixture.
When I finish a big project (like a book launch) or just want to drop a few pounds for bikini season, I cleanse with a shake once or twice/day.
It does wonders for my waistline, reduces any cravings and leaves me feeling energized and full for hours.
It's also a great way to detox off the chemicals you get exposed to in your day-to-day life.
My clients love the shakes because they are:
Gluten-Free

Soy-Free

Dairy-Free

Contain NO Artificial Sweeteners

Packed with Hormone-Balancing Vitamins & Nutrients

Tasty (no yucky "protein powder" flavoring)

Easy to Prepare
You can blend them with water and ice for a refreshing "milkshake"-like drink, or put a couple of scoops into your smoothie for a protein and nutrient-packed boost.
I like to mix them with filtered water, coconut water and unsweetened almond milk for a creamy, satisfying meal.
"Fast Food" That's GOOD FOR YOU (And Tastes Amazing Too!)
Let's face it – none of us likes to eat "health food" that takes forever to prepare, tastes like grass, and leaves you feeling hungry again an hour later.
These all-in-one shakes are designed to balance your hormones and stabilize your blood sugar – without sacrificing taste! In other words, they are delicious, and leave you feeling full far beyond the usual 3-4 hours.
And they take less than 5 minutes to prepare.
That's a complete, nutritious, hormone-balancing meal in just 5 minutes – that satisfies you for hours.
Reclaim Your Slim, Energized, Sexy Self . . . 
It's time to make a shift that will impact your life for years to come. Truly.
With each year that passes, it becomes more challenging to keep excess weight off and get your metabolism and hormones back in balance.
This proven formula is the easiest way to lose weight and feel great – at any age.
Yes! I'm ready to rebalance my hormones and start feeling and looking like myself again.
Please send me Dr. Sara's Reset360 All-in-One Shake, so I can get started right away.
 My audacious goal is to balance the hormones of one million women in this year. Let's start with you.
To your best health,


Dr. Sara Gottfried, MD
---
Delicious AND Nutritious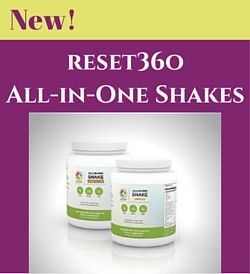 Dr. Sara Gottfried's Reset360 All-in-One Shake is a non-whey, vegetable-based, multi-nutrient protein powder that is low in sugar, calories, and fat. It is formulated to supply 22 grams of protein per serving from an easily assimilated proprietary blend of pea, potato, and chlorella proteins – a welcome alternative to more allergenic casein-, soy-, or egg-based protein sources.
Ideal for vegans and vegetarians, dairy-sensitive individuals, and anyone desiring an all-in-one, multivitamin-mineral protein combination formula as part of their daily diet – these shakes are also safe for children and the elderly.
Flavor options are chocolate or vanilla.
Nutritional Information
Serving Size: Two Scoops (44 g)
Servings Per Container: 30
Two (22 g) Scoops Contain: % DV
Calories: 160
Calories from Fat: 45
Calories from Saturated Fat: 10
Total Fat: 5 g 8%*
Saturated Fat: 1 g 5%*
Total Carbohydrate: 13 g 4%*
Dietary Fiber: 6 g 24%*
Soluble Fiber: 5 g **
Insoluble Fiber: 1 g **
Sugars: 4 g **
Protein: 22 g 45%*
Vitamin A (as Vitamin A Palmitate) 2,500 IU 50%Vitamin C (as Sodium Ascorbate) 30 mg 50%
Vitamin D (as Vitamin D2) 600 IU 150%
Vitamin E (from Mixed Tocopherols) 15 IU 50%
Thiamin (as Thiamin Hydrochloride) 750 mcg 50%
Riboflavin (as Riboflavin 5'-Phosphate Sodium) 850 mcg 50%
Niacin (as Niacinamide) 10 mg 50%
Vitamin B6 (as Pyridoxal 5'-Phosphate) 1 mg 50%
Folate (as L-5-Methyltetrahydrofolate from L-5-Methyltetrahydrofolic Acid, Glucosamine Salt) 200 mcg 50%
Vitamin B12 (as Methylcobalamin) 9 mcg 150%
Biotin 150 mcg 50%
Pantothenic Acid (as Calcium D-Pantothenate) 5 mg 50%
Calcium (as Dicalcium Malate) 100 mg 10%
Iodine (as Potassium Iodide) 75 mcg 50%
Magnesium (as Dimagnesium Malate) 80 mg 20%
Zinc (as Zinc Bisglycinate Chelate) 7.5 mg 50%
Selenium (as L-Selenomethionine) 35 mcg 50%
Copper (as Copper Bisglycinate Chelate) 1 mg 50%
Manganese (as Manganese Bisglycinate Chelate) 1 mg 50%
Chromium (as Chromium Nicotinate Glycinate Chelate) 60 mcg 50%
Molybdenum (as Molybdenum Glycinate Chelate) 37.5 mcg 50%
Sodium (as Trisodium Citrate and Sodium Chloride) 220 mg 9%
Potassium (as Tripotassium Citrate) 110 mg 3%
Proprietary Blend (Proteins) 25.5 g
Pea Protein Isolate **
Potato Protein **
Chlorella Protein **
Proprietary Blend (Fibers) 4.6 g
Inulin (from Chicory)**
Bamboo Fiber **
Pea Fiber **
Flax Seed Powder **
Apple Fiber **
Proprietary Blend (Fruits) 220 mg
Raspberry (Berry) **
Apricot (Edible Fruit) **
Mango (Edible Fruit) **
Pineapple (Edible Fruit) **
Proprietary Blend (Vegetables) 100 mg
Carrot **
Broccoli **
Cabbage **
Beet **
Spinach **
Proprietary Blend (Digestive Enzymes) 100 mg **
Proprietary Blend (Probiotics) 5 mg
Lactobacillus acidophilus **
Bifidobacterium lactis **
* Percent Daily Values are based on a 2,000 calorie diet.
**Daily Value (DV) not established.
Ingredients
Other Ingredients:
Organic Cane Juice Sugar, Sunflower Oil, Flavors, Medium Chain Triglyceride Oil, Stevia extract (leaf) (Rebaudioside A 95%), Xanthan Gum.
Medical Disclaimer: Information on this web site is provided for informational purposes only. The information is a result of years of practice experience by the author. This information is not intended as a substitute for the advice provided by your physician or other healthcare professional or any information contained on or in any product label or packaging. Do not use the information on this web site for diagnosing or treating a health problem or disease, or prescribing medication or other treatment. Always speak with your physician or other healthcare professional before taking any medication or nutritional, herbal or homeopathic supplement, or using any treatment for a health problem. If you have or suspect that you have a medical problem, contact your health care provider promptly. Do not disregard professional medical advice or delay in seeking professional advice because of something you have read on this web site. Information provided on this web site and the use of any products or services purchased from our web site by you DO NOT create a doctor-patient relationship between you and any of the physicians affiliated with our web site. Information and statements regarding dietary supplements have not been evaluated by the Food and Drug Administration and are not intended to diagnose, treat, cure, or prevent any disease. We respect your privacy. Your information is never shared with anyone. Ever.
Praise for Dr. Sara
"You don't have to accept the hormonal hell of being tired, stressed, overweight, and never in the mood for sex as you grow older. In her fabulous new book, the brilliant Dr. Gottfried gives you an effective, easy-to-follow plan to balance your hormones and become lean, energetic, and loving life again. Stop settling and reclaim your sexy!"
— JJ Virgin
Author, Six Weeks to Sleeveless and Sexy and The Virgin Diet
"The Hormone Cure is the playbook for your mojo, your mind, and your bootie. With every chapter I thought, 'So THAT's how that works.' I wanted to call every girlfriend and give them the goods on how to glow…now and always."
— Danielle Laporte
Author, The Fire Starter Sessions
and The Desire Map
"I'm in love. Yes, it's true. . . I'm in love with the work of Dr. Sara Gottfried. Last year I met Dr. Sara, who's a Harvard trained gynecologist and yoga teacher (great combo)—and her work has been life-changing for me. She showed me how to help my hormones the natural way, and this has been the biggest happiness booster for me in a long time. You don't have to settle for being stressed out, binging on sugar and chocolate, and aging prematurely. Stop blaming yourself and step into sacred action. It's your birthright. You can have the joyous, mission-driven life you want, and Dr. Sara is here to show us how."
— Marci Shimoff
New York Times Bestselling Author of
Happy for No Reason and Love for No Reason
"Dr. Sara is bridging the chasm between the woman who wants to take action to feel better, and the encapsulated medical body of knowledge. She is educating us on how to take care of ourselves, giving us information and putting it in a language that makes sense for anyone who is intelligent enough to think, but doesn't have a medical background. This is really rare. Dr Sara hunts the core issues women are wrestling with & answers the essential question: 'What the hell is wrong with me & what can I do about it?' I am making this book required reading in my Forrest Yoga Foundation Teacher Training."
— Ana T. Forrest
International Yoga Superstar and Founder of Forrest Yoga &
Author, Fierce Medicine: Breakthrough Practices to Heal the Body and Ignite the Spirit
"I am so happy to know Dr. Sara and to discover The Hormone Cure. I wish I had read this book in my twenties when I suffered a week of PMS every month. Now, I'm turning 50, still cycling, and I'm so relieved to have the answers I need to navigate the murky waters of my changing body and perimenopause. I can't wait to share this book with every woman I know including my two daughters! Thank you, Dr. Sara!"
— Kristine Carlson
NY Times bestselling Author: Don't Sweat the Small Stuff for Women, Don't Sweat the Small Stuff for Moms
"Dr Sara Gottfried is a modern-day healer goddess if ever there was one, and she also happens to be a Harvard Medical School graduate and rigorous physician-scientist."
— Christiane Northrup MD
author of Women's Bodies, Women's Wisdom
"I can't recommend Dr. Gottfried highly enough. She integrates eastern and western medicine beautifully, as a teacher and practitioner."
— Emily Hooker
Licensed acupuncturist
"Dr. Sara Gottfried's ability and willingness to utilize all that integrative medicine can offer has been a powerful catalyst for a fundamental shift in the quality of my life. She has used her creativity and training as a physician collaboratively with me every step of the way… as a result, at 54, I feel younger and healthier than I have in decades. From revitalized energy and stamina to the coveted verve that often quiets before we are ready, Dr. Gottfried's dedication to self-knowledge, understanding, and teaching of self-advocacy have helped me reclaim my edge… it is, to say the least, no less than glorious."
— Sara Carter
Painter
"Dr. Sara Gottfried MD is the most original voice in Women's Health today. Her brilliance, generous time spent to learn my story, incisive ability to analyze cutting-edge medical research and apply it directly to my issues, is unparalleled in today's hurry-up health care world. In comfortable, open, and easy girl-to-girl talk, we've uncovered how several of my perimenopausal issues with sleep are related to low estrogen and high cortisol, and she's corrected my breast tenderness – much to my sweetie's delight. She will help you stay dreamy and creamy as you age."
— Susan Harrow
Media Coach & author of Sell Yourself Without Selling Your Soul
"If I could consult with only one person in the field of women's health, unequivocally, I would choose Dr. Sara Gottfried. She blends together the best of integrative and conventional medicine in brilliant and individualized ways. Her whip-smart intelligence, Harvard training, and constant careful research bring us the latest and best in women's health. Add her extraordinary care, not only for her clients but for Mother Earth (She is the quintessential green organic gynecologist.), and she leaves the rest of us in the dust. All of these exceptional qualities make her the best integrative gynecologist in the U.S. Having worked with such greats as Dr. Christiane Northrup, I do not give such a recommendation lightly. Dr. Sara is here to bring greatness to our health world; we are fortunate to be on the receiving end of her wonderful gifts and expertise."
— Rebecca Elia, MD
"Dr. Sara produces phenomenal transformation in her clients. Using quantitative survey techniques, we were able to demonstrate substantial increases in energy and mood. Further, the data shows exceptionally high levels of satisfaction."
— Dr. Jeanne Hurlbert, PhD
Professor of Sociology and Expert at Quantitative Surveys