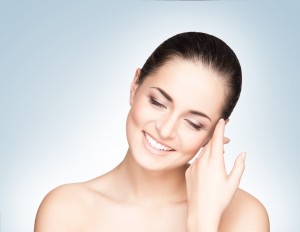 Soap, or oil cleanser? Facial mask, or exfoliation? Wrinkle fighting, or skin plumping? So many facial care products on the shelves claim to save our skin, whether from dryness or oiliness (or both) or aging woes. It's one challenge to figure out what to believe. But the bigger concern is that most products sold in stores are toxic.  What you rub, scrub, or swab on your skin doesn't always stop at the surface – a lot can seep into the body, bypassing your body's first line of defense.
If you put toxic skin products on your face, day in and day out, you might be engaging in a routine health disruption[1] – similar to what eating artificial and processed foods does to your insides. In fact, according to research by natural deodorant producer Bionsen, the average woman's body-care product usage hosts over 500 synthetic chemicals on any given day.[2] Who wants to even come close to that number?
Several years ago, once I realized the barrage of attacks my skin was facing, I began researching healthy skincare products. I wanted to find beauty products that are not only good for our skin, but that also work well. The products I now use are the result of years of vetting. Call it nutrition for the skin – feeding the body well from the outside in.
My Facial Care Regimen
I'm grateful for my skin's health, especially in midlife.  The products I use contain nontoxic ingredients, and they make my skin feel and look good.
Here's my face care routine:
Morning
During the Day
A few times a week, including after I work out, I often head to the sauna. But before I go in for the sauna's steamy release of my pores, I first smooth on AMG Coconut Honey Mask for facial exfoliation. The steam helps the honey mask to do its job, and my face feels like it gets a complete rejuvenation.           

Bedtime
Spread organic, cold-pressed coconut oil on my face and then gently wipe off with a soft cloth to remove makeup.

Repeat the first three steps of my morning ritual (using the same cleanser, serum, and facial oil) with an additional, end-of-day pleasure: a hot Epsom salt bath. Talk about a natural, effective wind-down. A hot Epsom salt bath is relaxing, which in turn serves to lower cortisol, the main stress hormone that, when elevated, has been linked to skin aging.[3] Less stress means fewer wrinkles.
Skincare in midlife seems to be all about anti-aging. But keep in mind that what goes on the skin can go into the body. Therefore, by treating your face with healthy products, you'll not only benefit physically, but you'll also feel and look better.
Interested in learning more about how to stay younger, longer? Check out my latest New York Times Bestseller, Younger: A Breakthrough Program to Reset Your Genes, Reverse Aging, and Turn Back the Clock 10 Years
References
[1] Jansson, T. et al. "Strategy to decrease the risk of adverse effects of fragrance ingredients in cosmetic products." American Journal of Contact Dermatitis 12, no. 3 (2001): 166-69.
[2] Rice, M. "Revealed…the 515 chemicals women put on their bodies every day," Daily Mail Online, November 20, 2009. http://www.dailymail.co.uk/femail/beauty/article-1229275/Revealed–515-chemicals-women-bodies-day.html.
[3] Chen, Y., et al. "Brain-skin connection: Stress, inflammation and skin aging." Information and Allergy Drug Targets 13, no. 3 (2014): 177-190.
Leave Your Facebook Comments Below
comments