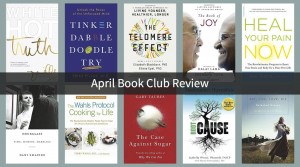 I'm so pleased that my latest book, Younger, made it to the New York Times bestseller list. Likewise, I love recommending other recently-released innovative books about health. Here are my latest top ten.
1. White Hot Truth: Has your self help become self criticism? A wise and hilarious exploration of the conflicts between spiritual aspiration and the compulsion to improve, from one of my mentors and Oprah Super Soul 100 member, Danielle LaPorte.
2. Tinker Dabble Doodle Try: Harness your mind's innate tendency to wander, stall, rest, and unfocus and become more productive—in the boardroom, living room, or classroom.
3. The Telomere Effect: The New York Times bestselling book coauthored by the Nobel Prize winner who discovered telomerase and telomeres' role in the aging process and the health psychologist who has done original research into how specific lifestyle and psychological habits can protect telomeres, slowing disease and improving life.
4. The Book of Joy: Two spiritual giants. Five days. One timeless question.
5. Heal Your Pain Now: Dr. Joe Tatta teaches you how to regain control of your life by breaking the cycle of persistent pain. Heal Your Pain Now provides natural solutions to potentially eliminate your pain and return to an active, healthy, and fulfilling life.
6. Hourglass: One of my favorite novelists and memoirists is Dani Shapiro. In Hourglass, Dani delivers her most intimate and powerful work: a piercing, life-affirming memoir about marriage and memory, about the frailty and elasticity of our most essential bonds, and about the accretion, over time, of both sorrow and love.
7. The Wahls Protocol Cooking for Life: The cookbook companion to the groundbreaking The Wahls Protocol, featuring delicious, nutritionally dense recipes tailored to each level of the Wahls Paleo Diet.
8. The Case Against Sugar: From the best-selling author of Why We Get Fat, a groundbreaking, eye-opening exposé that makes the convincing case that sugar is the tobacco of the new millennium: backed by powerful lobbies, entrenched in our lives, and making us very sick.
9. Root Cause: Hashimoto's is more than just hypothyroidism. The lifestyle interventions discussed in this book aim to dismantle the vicious cycle piece by piece. We start with the simplest modifications, by removing triggers, and follow with repairing the other broken systems to restore equilibrium, allowing the body to rebuild itself.
10. Eat, Live, Love, Die: Betty Fussell is an inspiring badass. She's the award-winning author of numerous books ranging from biography and memoir to cookbooks and food history.
I hope you'll enjoy reading any or all of the above books, and that each one will be food for thought on living a healthier, longer, and fuller life.
Leave Your Facebook Comments Below
comments