Wholeness: Why the Photo Shoot for My New Book Cover Made Me Feel Complete (And What You All Said About It, Too!)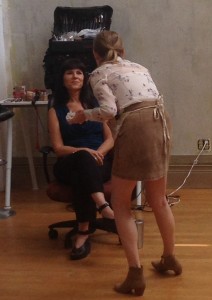 We need more wholeness in the world, especially now. A recent photo shoot served as an important reminder.
For me, the photo shoots never used to be about being whole. Instead, they used to be one part joy and one part do-I-look-fat-in-this-dress? Now I zip up the dress, stop staring in the mirror, and ask:          
What will it take to feel whole right now, in this moment?

How may I share that wholeness with others, and best serve the people I love with this shoot?

How can I emanate my cultivated sense of wholeness to the new people that I'm fortunate to meet?
These were the questions I posed for myself as I prepared for a photo shoot for the cover of my upcoming book, Younger: A Breakthrough Program to Reset Your Genes, Reverse Aging, and Turn Back the Clock 10 Years.  This book is about how we all have the power to stay young and strong decades longer than we ever thought possible.
When I now look at the cover, I remember hanging out all day with my beloved editor at HarperOne, an imprint of Harper Collins, cracking jokes about dresses, jewelry, shoes, our families, and craniosacral therapy. I recall the gifted photographer, a Frenchman with a certain grin that put me at ease. I loved the space, a groovy industrial warehouse in the hip Potrero Hill neighborhood of San Francisco.
Like a mother who forgets the pain of childbirth, I can't actively recall the obsession with my weight or "kimono" arms. I don't remember—unless I painstakingly think about it—the way I'd stare at the mirror at barre class, hoping a thigh gap might magically appear before a photo shoot.  I suffered the same way so many women suffer regarding body image – in fact about eighty percent of us. Then a friend said something so wise, quoting Jane Fonda: "We are not meant to be perfect, we are meant to be whole."
Wow. My suffering immediately ceased. I suddenly stopped inspecting my belly fat in the mirror before the shoot. I no longer fixated on how I look. Instead, I focused on feeling whole – leading up to, and during the shoot.
I asked myself, "When I think of myself as whole, what do I need to address?" And I want you to ask yourself that very same question.
For me, I needed to lead with my heart, not my mind, and certainly not my inner critic. I needed to relax more into motherhood and let go of the ridiculous expectation of perfection. I needed (still a work in progress) to sense that my soul is eternal, and my body is temporary. I want to take care of the body that houses my soul, but not be controlled by it nor diminished by it.
I wrote about the experience of the photo shoot recently to my email list, and while I received many kind responses, I was surprised by some of them, such as:
I envisaged something much more artistic – come on Dr. Sara, you can do WAY better than that!

Your hair is a couple of shades darker than usual. And harsher cut than I've seen.

Too posed too perfect, the picture is sending the exact message your trying not to.  Would have loved to see a candid picture caught of you just laughing while doing something you love, and just being you.  No wonder you were so uptight and critical – because it looks like you were worried about being judged.
Ouch. I look at my new cover and see wholeness-in-progress. I wasn't at my usual goal weight, but I'm happy with my body and smile. It's just me. My hair is bit darker than the past few years because I no longer highlight it with toxic chemicals; I use a food-grade hair pigment that I describe in the book that's totally natural but makes my hair a deeper shade of brown. Mostly, I look at the photo and sense my soul, and I hope you do too.
While I was sad to read the critical comments, I took them as honest feedback, and not much more. We all know that wholeness is about no longer trying to be all things to all people, including my email subscribers. (I've tried that and it sent my cortisol through the roof while depleting my other hormones, and hastened my aging. No more—I am compassionately detaching from people pleasing.) I share what I can, when I can, from a place of love and self-acceptance, with a focus on who I am, what I've been through, and my thoughts on what I've been through. That's the path of the warrior, a warrior with cortisol in balance.
Much more valuable—now that the cover is finished and cannot be changed—is to share with you the wise ideas that my email subscribers shared about what wholeness means to them.
Email Subscriber Insights: What Being Whole Means To You
I asked my email subscribers for their  insights into what "wholeness" means to them.  Here is a sample of their (your!) answers:
Focusing on being content with what I currently have.

When I am fulfilling the roles that I can fulfill, such as being a good wife, a mother, a grandmother, a friend, a good neighbor, etc. and feeling healthy and strong to want to do it and do it well.

Stopping myself from comparison to others or to the me who might have been if only I would have…

I can't feel whole without my confidence. I always try so hard to be the best I can be, but sometimes get too carried away, and really STRESS out about it. I have to RELAX, love what I'm doing and who I am; only then I become grateful and confident.

I need to work on my confidence problem, believing what I see, now that I have lost the weight. And not to worry about what other people think.

Emotional balance and the release of tension

Being at peace is more important than being happy.

Thank you for reminding me there is more to wholeness than just the body. My spirit and soul must be healthy too.

Making myself happy, which starts in my head.

I need to realize how much the way I deal with stress affects my body, mind, and spirit and those around me (specifically my children).

I need to be more in the moment in general, and specifically to enjoy my in-the-moment times with my children instead of stressing about my and their futures.

I need to trust in God, the universe, love, the source, (whatever name one prefers) that things are happening for a reason and unfolding in the most perfect way for the highest good for myself and for everyone.
Thank you, Tribe! These comments create the type of upcycle that I want to honor and share. It helps me feel embodied and kind, like a warm blanket and a puppy on a chilly winter night.
What about you? If you think of yourself as whole, what needs to be addressed? Leave a comment below. I'd love to continue to crowd source all the ways that we women can become more whole. Of course, I'd love to hear what you think about the new book cover!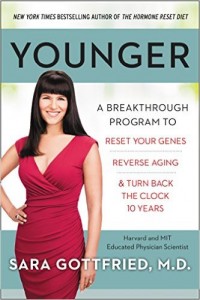 In the coming year, I'm setting my sights on helping our community to achieve youth and vitality, starting with DNA and how it's expressed. I'll be sharing inspiration, motivation, education, and some aging life-hacks as we approach the release of my new book, Younger. Pre-order Younger now before its price goes up for the official release on March 7, 2017.