If you are a woman overflowing with energy, confidence and zest for living…
…this message is NOT for you.
For the rest of us experiencing the underbelly of life more frequently than we'd like to admit, secretly wondering if all this happiness chatter is a far fetched fantasy, do not despair.
A search and recovery team is on it's way to rescue your inner happy-girl and set her free!
Announcing… Sexy, Juicy, Joyful: Mood!
Join thousands of women who've reclaimed a rockin' metabolism, found their sacred energy balance and put the vroooooom back in their sex drive with Sexy, Juicy, Joyful!  This innovative program  features The Gottfried Protocol, the unique and uber-effective combo of evidence-based integrative modalities, ancient wisdom practices and the type of compassionate support that keeps you accountable. You simply won't find this kind of content, community, and connection anywhere else at any price.
Sara Gottfried is a modern-day healer goddess if ever there was one, and she also happens to be a Harvard Medical School graduate and rigorous physician scientist.
— Dr. Christiane Northrup, M.D., international best-selling author of Women's Bodies, Women's Wisdom and The Wisdom of Menopause —
Now it's your time…
28-days to Feeling Fabulous for No Reason at All!
Only $497
Or
One in four – 26% – of women today are taking some kind of drug for mild to moderate depression, yet most mood problems in women are hormonal in origin.  
"Women are prescribed an antidepressant as a first course of action when it should be the last.  I believe this needs to change. Join me in changing it." – Dr. Sara
Dear Mission-Driven Women:
If you've ever felt like you're bungling this whole happiness thing, secretly wondering if it's too much to ask to simply feeling great once in a while, then welcome to a paradigm shift will have you feeling not just great, but absolutely maaah-velous, in an amazingly short period of time – naturally, without drugs and without the nasty drug side-effects.
It's Sexy, Juicy, Joyful: Mood!, where I'm right in there with you: mentoring, teaching, coaching and cheering you on to feeling more peaceful, balanced, fulfilled and blissfully happy more of the time.
You will not want to miss Sexy, Juicy, Joyful: Mood! as I bust the myths and get real about why you occasionally or not-so-occasionally find yourself feeling:
Irritable
Scattered, unable to focus, anxious, worried
Melancholy, sad, mildly depressed, perhaps thinking the latest antidepressant might be a good idea
Or just plain ol' bitchy
And I reveal my secrets to bringing sacred balance to the hormones that can derail your mood and undermine your quality of life allowing you to rediscover your natural state of confidence, peace and happiness.
Feeling good is your natural state of being, your birthright, and a search and rescue team is on its way to help you reclaim your inner happy girl.
Wondering if this program might be for you?  Here's a short list of reasons to join us:
Is your mood inconsistent?  Feeling fine one minute, anxious the next, sad the next, then round it all out with a few moments of stressed out over-providing and over-accommodating?
Or perhaps it isn't so much about your mood but challenges staying focused (you've somehow acquired the attention span of a teen age boy) or frustrating gaps in short term memory (you are way too young for senior moments!)
Are you tired of numbing out with food, alcohol, TV, People magazine, work, or sex?
Do you feel like an overwhelmed train wreck way too often?
Do you want to get off antidepressants or other mood-regulating meds, once and for all?
Have you almost resigned yourself to saying "yes" to that prescription your doc keeps encouraging you to start, but a wise voice deep inside is whispering, "no"?
Are you ready to redirect the energy of a cranky mood towards living fully your one wild and precious life?
Are you ready to take back the helm of your emotional ship and chart a course to a sunnier destination?
Heck yeah, let's do this! I'm going to be right with you every step of the way. It'll be like having your own private Harvard-educated, shamanic hormone concierge on speed dial!
Only $497
Or
I want to share with you something personal, because part of the reason I'm so passionate about empowering you with the cutting-edge information, proven protocols and vetted resources you'll find in Sexy, Juicy, Joyful: Mood!
You don't have to settle for being stressed out, binging on sugar and chocolate, and aging prematurely. Stop blaming yourself and step into sacred action. It's your birthright. You can have the joyous, mission-driven life you want, and Dr. Sara is here to show us how.
— Marci Shimoff, International Speaker and New York Times Best-Selling Author of Happy for No Reason and Love for No Reason and co-author (with Jack Canfield) of Chicken Soup for the Woman's Soul —
When I was a 28 year old intern at the University of California, San Francisco, I was diagnosed with depression for the first time.  Then when I was 33 years old, I experienced Round 2 with a diagnosis of postpartum depression.   The experiences were each challenging, of course, but they got me to realize two very important things:
First, I have a vulnerability to depression – I wasn't the super hero I was posing as.  I needed rest, I needed self-care, I needed sacred balance – we all do.
Second, I was put face to face with how traditional medicine treats women experiencing depression – the condescending attitude, the knee-jerk prescription writing, the lack of compassion and dismissal of my feelings – and I resolved to do something to change it.
Sexy, Juicy, Joyful: Mood! is that game changer for women seeking to take control of their own emotional destiny.  This program puts the keys in your hands then coaches and supports you through the process.
"Depression, anxiety, and PMS are not a Prozac or Celexa deficiency" — Dr. Sara
Outcome? In 30 days, you'll have more cutting-edge information than your doctor on how to moderate your mood with small but powerful tweaks your diet, the quality and quantity of your exercise, your sleep patterns and your supplements.  You will learn how to notice and interpret the hormonal signals your body is sending.
Here's how you benefit:
Learn Secrets of a Harvard Gynecologist.  I've scoured the literature and the world to bring you little-known esoteric practices, along with the big, dramatic, proven ways to boost your mood and de-age.  You can come to Berkeley to see me as a concierge patient for $5K to learn it all one-on-one (6-month to 1-year waiting list), or you can shift from irritable to buoyant in 4 weeks (12+ hours) with me for a substantially lower investment.
Get started fast with my signature weekly Jumpstarts – 5 tips that prevent overwhelm and move the needle quickly.
Go deep. I'm known for providing the needle-moving information, titrated for a busy and mission-driven woman, that gets you joyous day-to-day and minute-to-minute, regardless of age.  Grow your concept of how your mind, hormones, and entire body works, and learn an refreshing, new health paradigm.
Gain clarity.  This is my favorite part. Q & A.  While given specific medical advice, such as interpreting a lab result, is off limits according to laws governing MD's, I'll be answering in great detail and depth the most common questions. It will ignite you.
PLUS! Juicy interviews. Intimate and revealing with my favorite colleagues and hottest experts in their fields. (We've got an amazing line-up for this program!)
Resources.  Because information is worthless without resources ~ plus ~ I provide local options whenever possible.
Random extras. Because I love more than anything to empower you to be successful.
Treat yourself to something authentic, real and proven to work in women just like you! In addition to the complete program in digital format, you may also choose to have the entire program delivered to you in a full-color binder complete with every audio on compact disc and every Jumpstart, transcript and worksheet printed for hands-on convenience.
You don't have to accept the hormonal hell of being tired, stressed, overweight, and never in the mood for sex as you grow older. Dr. Gottfried gives you an effective, easy-to-follow plan to balance your hormones and become lean, energetic, and loving life again. Stop settling and reclaim your sexy!
— JJ Virgin, Celebrity Nutrition and Fitness Expert and best-selling author of Six Weeks to Sleeveless and Sexy —
Sexy, Juicy, Joyful: Mood! is packed with detailed information you won't find anywhere else!
Week 1. Mood Modulation Made Stunningly Simple.
What is this thing we call mood anyway?  You'll meet your mood in a whole new way this week as you learn:

How to reclaim the lovely mood of your younger years!
How to assess your mood, and the neurohormonal drivers
How to measure your mood using the latest tests and evaluation techniques – blood, saliva, and urine tests — most of which you can perform at home.
Week 2. Your Food Plan, Hormones, and Prescriptions Demystified.
Food is foundational to mood. We'll get specific + the essentials on scripts.

What I personally eat – how I arrived at my particular plan – and more importantly, why it works so superbly for the 10,000 women I've taken care of in my concierge practice in the past 10 years.
Discover cutting edge data on the brain/hormone dashboard: serotonin transporter, COMT, dopamine, oxytocin, oh my!
How to optimize your mood even if you're already on medication.  How to get off mental health prescriptions, once and for all? Dr. Sara will share her protocol that has been proven in thousands of women over the past 20 years of her medical practice.
Additional therapies (thyroid hormone, methylated folate, tyrosine, etc) that help mood improve
What to do if your mood is borderline and you are appropriately cautious about starting any medication.
Week 3. Implementation Week
New for Mission: Ignition. Mood, and included by popular request, this week is all about creating space for you to implement what has been covered in our fist two weeks.  You can catch up on teaching calls, re-listen to your favorite interview, and get your tests ordered.  We will kick off the week with a Live Q&A so you can use Implementation Week to take the action that you need to delivers the good-vibration results you want!
Week 4. Epigenomics: Rock Your Mood with Supplements, Mental Retraining, and Exercise
We will go deep this week – all the way down to your DNA!

Supplements proven to change mood for the better–with Dr. Sara's doses and Harvard-approved insights
Cleansing and Detoxification: what's proven to work and what's not.
How to use exercise to support your mood better (because some popular forms of exercise may be putting you out of hormonal balance!)
Week 5. Integration.
This week you'll put it all together, with my help, so it makes sense for you and your lifestyle.

Go deeper, integrate, and coordinate so you can re-ignite, maintain and enhance your thyroid and boost your mood today, tomorrow and beyond!
Final LIVE Q&A mentoring call with Dr. Sara
Discover the Sexy, Juicy, Joyful difference:

The robust and cutting-edge methods you'll learn to apply in this program are safe, effective, and proven.  I've triple demonstrated them in my practice and in my own body, and they are all easy for you to do at home with my guidance, and I've got Harvard-tested data to prove it.
You get the most current and thoughtful solutions available to you now.  (I'm a complete geek about this stuff, spending hours and hours scouring the latest research!) Plus you can be assured there's proof my recommendations work and work safely. You and your body deserve this enlightened approach.
One professor of Sociology looked at my results from Mission Ignition online courses and said this of the documented improvements my participants experience:
Dr. Sara produces a phenomenal transformation in her clients enrolled in Mission Ignition. Using quantitative survey techniques, we were able to demonstrate substantial increases in energy and mood. Further, the data shows exceptionally high levels of satisfaction.
— Dr. Jeanne Hurlbert, PhD —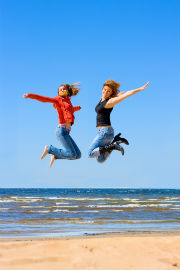 As a special bonus: I've infused the program with fun because fun boosts your mood.  Fun is the organic lube on the wheels of life, and I don't do anything without a healthy dose of it!
It's not your fault you sometimes or frequently feel Bitchy or Blue.  Life is tough.  No one that I've ever come across had a "perfect" childhood.  No one has a "perfect" life!  We have scars and we have very real challenges.  We also have hormones!!   And, when out of balance hormones combine with the what-is of life, you can't help but find yourself on the B&B train!
But, don't fall in love with your damage.   You can right now get what you need to connect to your daily joy and fuel your deepest desires.

Plus this mojo-upgrading bonus:
1-month FREE in the Get Vital, Stay Vital Inner Circle ~ Connect with Dr. Sara in the secure, private Facebook group. Get your questions answered, stay up-to-date on the latest evidence-based, breakthroughs (you'll be more current than your MD – promise!), get connected to your tribe of ignited, turned on women holding each other accountable to living vital life! Value: $97
My Mission and Commitment + Your Guarantee My mission at the is to help women – like you – feel sexy, vital and balance from your cells to your soul. My commitment is to provide you with the most cutting edge, research proven and data driven methods for restoring hormonal and sacred balance to your body and your life.

Your no-frilly-stuff Guarantee:

Dive into the entire first week of information for Mission: Ignition. Mood! And if you aren't convinced this is the most comprehensive, unique and fun program you've ever experienced, just let us know within 7 days of your purchase date, and we will issue a full refund.
Simple. Proven. Guaranteed.
Because NOW is your time.
"I love this program and am actively using it. I love that Dr. Sara is looking at the Whole picture of our womanhood. our physicality, spirituality… in a very practical way. It is great to be fed information on a weekly basis with clear recommendations. I have time and space to incorporate things in my daily life without being overwhelmed. I am a health coach and chef and have the structure and knowledge already but this program gives me a clear focus on specific issues in women's health. Steps that I have taken are adding a new supplement and making sure of the quality, testing my PH, having my hormones checked, drinking more water, paying attention to my soul and my thoughts. I am enjoying the learning from the teachings and the multiples lights that are shed on metabolism."  ~Joelle Friedman
"If I could consult with only one person in the field of women's health, unequivocally, I would choose Dr. Sara Gottfried. She blends together the best of integrative and conventional medicine in brilliant and individualized ways. Her whip-smart intelligence, Harvard training, and constant careful research bring us the latest and best in women's health. Add her extraordinary care, not only for her clients but for Mother Earth (She is the quintessential green organic gynecologist.), and she leaves the rest of us in the dust. All of these exceptional qualities make her the best integrative gynecologist in the U.S. Having worked with such greats as Dr. Christiane Northrup, I do not give such a recommendation lightly. Dr. Sara is here to bring greatness to our health world; we are fortunate to be on the receiving end of her wonderful gifts and expertise." ~Rebecca Elia, MD
"Dr. Sara Gottfried's ability and willingness to utilize all that integrative medicine can offer has been a powerful catalyst for a fundamental shift in the quality of my life. She has used her creativity and training as a physician collaboratively with me every step of the way… as a result, at 54, I feel younger and healthier than I have in decades. From revitalized energy and stamina to the coveted verve that often quiets before we are ready, Dr. Gottfried's dedication to self-knowledge, understanding, and teaching of self-advocacy have helped me reclaim my edge… it is, to say the least, no less than glorious." ~Sara Carter
"Dr. Sara Gottfried MD is the most original voice in Women's Health today. Her brilliance, generous time spent to learn my story, incisive ability to analyze cutting-edge medical research and apply it directly to my issues, is unparalleled in today's hurry-up health care world. In comfortable, open, and easy girl-to-girl talk, we've uncovered how several of my perimenopausal issues with sleep are related to low estrogen and high cortisol, and she's corrected my breast tenderness – much to my sweetie's delight. She will help you stay dreamy and creamy as you age."
~Susan Harrow, Author of Sell Yourself Without Selling Your Soul
Only $497
Or