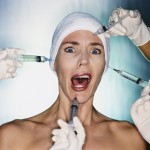 Forty-nine-year old Amy arrived in my office and plunked down a grocery bag filled with skincare products, everything from anti-wrinkle creams to anti-aging serums. She'd even tried injections of various kinds. "I fork over half my paycheck for a herculean ritual – and it's getting me nowhere," she complained. Her main lament was that skincare was high maintenance and … [Read More...]
WHY DR. SARA?
Dedicated to Helping Women Balance Hormones Naturally
I believe in eating your leafy greens rather than popping synthetic pills. I believe in Ayurveda, integrative medicine, + yoga to cultivate your vitality. If this is the doctoring you seek, you're in the right place!