Why I Love the Dailey Method Spin Class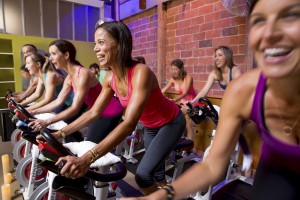 Spin class may not be the first place you think of when it comes to alignment and strengthening your pelvic floor. Until now. Recently I tried the Dailey Cycle spin classes, part of the Dailey Method barre class franchise, and was delighted by what I found. If you've heard of Tabata, it's another version of the popular Japanese form of burst training.
The Dailey Cycle is the spin class I'd been waiting for. Part dance club with its dim lighting, neon accents and pulsing beats, Dailey Cycle combines High Intensity Interval Training (HIIT) and Pilates on a stationary bike. It is one – if not the –  most efficient way for a woman to get her endorphins going – without injury.
The owner of the Northbrook, IL, Dailey Method studio outside of Chicago originally developed Dailey Cycle. The idea arose from teachers and clients wanting to combine more cardio with their lengthening and toning exercises. The class that I took was forty minutes of spin, and twenty minutes of upper body toning.
Some people have more slow-twitch muscle fibers, meaning they are more comfortable with strength and long endurance activities. Others are more inclined to activities that require speed and intense bursts of power, traits which are equated with more fast-twitch fibers.  Dailey Cycle trains both of these muscles for better overall fitness. 
Kerry Corcoran, co-owner of the Berkeley Dailey Method studio, explained to me, "When I first started cycling and watched other riders speeding along, I thought my legs would never be able to go that fast! I was clearly more inclined to strength, endurance, and slow-twitch fibers.  Fairly quickly I was able to develop those muscle fibers and find the speed — our bodies are so amazing!"
First Class
My first class was with Susan Willrich, whom I wrote about previously for her killer wit and hysterical asides (read my blog on her barre classes right here), which I sorely need when sweating like the wall-chiseling prisoner in Shawshank Redemption.
I chose a bike near Jill Dailey, founder of Dailey Method — which meant I couldn't be a wuss. Which meant I needed to bring forth my best spinning self. Which meant I was in big trouble, because it had been several years since my last grueling spin class.
Susan distracted me from the first five minutes of spinning (only 35 minutes left! Why did I come again?) by explaining proper alignment. First it's important to keep a neutral spine on the bike, like you do in an aligned squat. Second, um, well . . . Susan taught a lot of other things about alignment, none of which I remember because I was focused on not dying, especially with Jill Dailey at my side.
Then Susan invoked Tabata (20-second all-out intervals, followed by 10-second rests) and pierced my veil of excuses, distorted thoughts, and lists of reasons why I needed to conserve my strength …. Don't you know I have adrenal fatigue? Maybe I ruined my thyroid with my nutritional ketosis experiment. It's day 2 of my period! I think I may have been exposed to mold, and that's why I'm tired…. Tabata and Susan's guidance gave my monkey mind a place to settle just to get through it.
Second Class
I returned to Dailey Cycle for a class with Kerry Corcoran so I could understand what I missed the first time around. A former critical care and trauma nurse and now the Anatomy Trainer for the Dailey Method, Kerry is always teaching me new things about fitness for the female body.
Start with neutral spine.This is the work that separates Dailey Method from other barre classes, and Dailey Cycle from other spin classes. Physical therapists will tell you that you should spend 90 percent of your life in a neutral spine, particularly during exercise. That's not my experience in spin class, where my tendency is to tense my shoulders up toward my ears and round my lower back as I become fatigued.
Widen collarbones.Susan and Kerry suggested that we keep our collarbones wide by externally rotating the upper arm bones and stabilizing the shoulder blades wide on your back with an emphasis on the outer tips drawing down the back. Maybe it's perimenopause or my overdeveloped upper trapezius muscles, but this one doesn't come easily to me and I need to remind myself to do it about every three minutes. This is where Pilates or barre work comes into play. It's a way to balance the front and back body. Kerry says, "The tendency on a bike is to hunch or round your shoulders leading to weak upper back muscles, tighten chest muscles and poor posture overall. The cue to keep your deep shoulder stabilizers engaged and to maintain ease and openness in your chest and neck translates into better posture on and off the bike."
Clip into the pedals apply the rules of "seat work." Riding with your feet clipped into the pedals allows you to balance the quadriceps with the hamstrings, two muscle groups which work together as a package deal. "In general people tend to be 'front-body' strong and 'back-body' weak," Kerry explained. "On the bike, it is important to use the muscles of the front and back body together to create a smooth pedal stroke." Your hamstrings, gluteals, hip flexors, quadriceps and calf muscles all work together to create a smooth, steady pedal stroke, more power on the bike, and greater stability for the knees, hips, and spine.
Lift the pelvic floor.  Don't push out the pelvic floor like most people do when exercising hard. Instead, sit gently on the bike seat, and lift the pelvic floor like you're doing a kegel (or the yoga position, mula bandha). If you push out the pelvic floor, you may set yourself up for adult incontinence — not allowed on my watch.
Dailey Cycle is the most balanced indoor cycling class on the fitness scene.  Forty minutes of mindful cycling with attention to alignment ensures riders are using their bodies efficiently and powerfully, resulting in balanced strength and an incredible cardiovascular workout.  The twenty-minute floor component of the class strengthens the upper body and core, and stretches every muscle properly — sealing the deal for a true full body workout in only an hour.
Benefits of Dailey Cycle classes:
Cardiovascular benefit with high intensity interval training

Body resistance/strength training

Alignment that prevents injury

Balanced front and back body

Stronger core and pelvic floor

Hip release during floor component
Dailey Cycle: my new favorite way to get high-intensity interval training without blowing out my pelvic floor or messing up my spine alignment. Even my darling husband was intrigued and asked to join me on a future visit. So, check out one of the Dailey Cycle classes, ask your local Dailey Method to build a Cycle room, or query your gym to consider adding a class.
About Sara Gottfried, MD
Sara Gottfried, MD is the author of the new book, Younger: A Breakthrough Program to Reset Your Genes, Reverse Aging, and Turn Back the Clock 10 Years. She's the two-time New York Times bestselling author of The Hormone Cure and The Hormone Reset Diet. After graduating from Harvard Medical School and MIT, Dr. Gottfried completed her residency at the University of California at San Francisco. She is a board-certified gynecologist who teaches natural hormone balancing in her novel online programs so that women can lose weight, detoxify, and slow down aging. Dr. Gottfried lives in Berkeley, CA with her husband and two daughters.