How to Eat Mindfully at Restaurants (and Keep Your Hormones in Balance)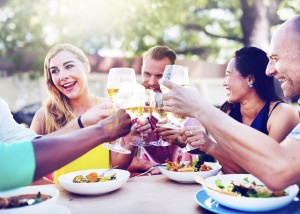 Who doesn't love restaurants? The average American family spends 40 percent of their food budget on foods from restaurants. Typically, eating out adds 134 calories per day to the diet.
Someone else serves you, then does the dishes! What's not to love? Well, there's a lot. Restaurant food is served in large portions (except maybe French Laundry).
Most use foods that are not organic, and meats from concentrated animal feeding operations. Many use industrial seed oils. There are rare exceptions, such as Mission Heirloom in Berkeley, California. But the good news is that are there specific ways that you can eat out without getting fat and accelerating aging. It starts with mindful eating.
In a study at the University of Texas at Austin, 35 women between the ages of 40 and 59 were shown how to approach restaurant eating mindfully. The specific group of women were in perimenopause and menopause, a time when women tend to gain weight, particularly in the belly, thereby raising risk of diabetes, metabolic syndrome, high blood pressure, and heart disease. Women enrolled in a six-week mindful eating program to learn how to manage food when eating out. After six weeks, women were eating 300 fewer calories after completing the program and lost 4 pounds, even though they weren't trying to lose weight (the control group lost no weight).1http://www.jneb.org/article/S1499-4046(11)00264-8/abstract Of course, calories aren't everything – calories matter but hormones matter more. Mindfulness helps both.
As you might imagine, the mindful eating program consisted of six weekly two-hour group sessions that reviewed the basics of weight management, planning meals at favorite restaurants, and how to visualize portion size. While this study showed a benefit, another study of 194 adults followed for 5.5 months showed weight loss in obese subjects, though not statistically significant. However, the mindful eaters had lower fasting glucose and better lipids (triglyceride-to-HDL ratio).2http://www.ncbi.nlm.nih.gov/pubmed/26955895
Key strategies that I learned from the study, combined with the ground rules that I always follow at restaurants (and when ordering room service at a hotel):
Plan for the meal during the day. Make you other meals during the day more rich in vegetables so that you get plenty of fiber and your blood sugar is stable. Never skip meals, which may lead to low blood sugar and overeating. See if you can find the menu for the restaurant online, so that you can read the menu carefully and prequalify what you can eat. (I just went on a trip to Norway, saw that halibut sashimi was on the room service menu, and ordered it daily with steamed vegetables. Yum!) If you're joining someone else for a meal, see if he or she will spit an entrée with you.
Slow down. Take as much time as you need to select what to eat, and ask any and all questions. This is not the time to be a people-pleaser. Don't feel like a nag when you clarify what's in the salad dressing, how they cook the fish, and what ingredients are used on the vegetables. Don't worry if an appetizer and salad seems like the best bet. When the food arrives, savor each bite paying attention to the aroma, texture, and taste. This practice has been shown to increase enjoyment and satiety with smaller portion sizes.
Order steamed vegetables. I've never been to a restaurant or hotel that doesn't serve steamed vegetables. I like to fill up
Control the amount of salad dressing and sauces by requesting it on the side. I find that salads at restaurant use double the dressing that I use at home. So I toss my own salad with 2 tablespoons (approximately 1 ounce) of dressing – and I make sure the dressing does not have sugar, gluten, or dairy in it – since all are addictive and serve as my red-line foods.
Take two deep breaths when your food arrives. We know that people eat 40% more when dining with friends. We get distracted. Turn your attention back to the food by taking a deep inhale of the steaming food for a 4 count, hold your breath for 7 count, and exhale for an 8 count. It only takes two breaths to switch your nervous system back to "rest and digest." When you're calm and present, you're more aware of hunger, stomach fullness, and avoidance of food triggers.
The University of Texas Mindful Eating Protram takes it one step further and defines mindful eating in the following way:3http://cmhc.utexas.edu/mindfuleating.html
Experiencing the positive and nurturing benefits of food preparation and eating.
Choosing to eat food that tastes good to you and nourishes your body.
Using all your senses to explore, savor and taste each meal.
Learning to listen to physical hunger and satiety cues to guide your food choices.
Slowing down throughout your day to "check-in" to realize the benefits and effects of eating on your body and emotions.
Most of all, mindful eating means that you are fully present to the pleasure of eating. Savor it. Learn a new way to eat out.

About Sara Gottfried MD
Sara Gottfried, MD
is the 
New York Times
 bestselling author of 
The Hormone Cure
 and
The Hormone Reset Diet
. After graduating from Harvard Medical School and MIT, Dr. Gottfried completed her residency at the University of California at San Francisco. She is a board-certified gynecologist who teaches natural hormone balancing in her novel online programs so that women can lose weight, detoxify, and slow down aging. Dr. Gottfried lives in Berkeley, CA with her husband and two daughters.