My Top 5 Health Lessons of the Year: HIIT, Blood Glucose, Divine Unrest and More!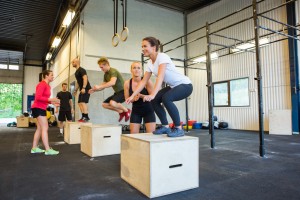 As I close out this year and look toward next year, I want to continue what was good and improve upon it. I have a vision of myself, fully expressed, beaming love and kindness to my family, friends, and community. But I started the year not in that state.
So I took the vision of my future self, and changed five behaviors. With this in mind, here are my top five health lessons from 2016. Implement them at your own pace throughout 2017, and keep me posted on your progress.
Wrap Up
As you prepare for 2017, please pause a few beats to take stock of your well-being. How are your health behaviors? Where are the gaps between who you want to be in the world and who you are now? Certainly, you can let go of the need to be perfect, and connect to something greater and take the time to relax in your own body. One thing I've just done is adopt a puppy, and a friend said something beautiful about that: Be the person your dog thinks you are: Playful, kind, fun. Gently remember to keep up warm social ties and a healthy lifestyle, you are well on your way to feeling amazing year round. Happy New Year!
Want to learn more about staying healthy and living longer in 2017? Order my new book Younger: A Breakthrough Program to Reset Your Genes, Reverse Aging, and Turn Back the Clock 10 Years and discover how to increase your quality of life now, and long-term.
References

↑

1
Lexell, J. "Human aging, muscle mass, and fiber type composition." The Journals of Gerontology. Series A – Biological Sciences and Medical Sciences, 50, no. 11-6 (1995).

↑

2
Oprah Winfrey Network. "Oprah's Master Class: Jane Fonda on Perfection." YouTube video, 3:57. January 8, 2012.

https://www.youtube.com/watch?v=A4AnHAwHQB4

↑

3
Fonda, Jane. "My Convoluted Journey to Feminism." Lenny. March 23, 2016 

http://www.lennyletter.com/politics/news/a311/my-convoluted-journey-to-feminism/

↑

4
House, J.S., et al. "Social relationships and health." Science 241, No. 4865 (1988): 540–545.

↑

5
Holt-Lunstad, J., et al. "Social Relationships and Mortality Risk: A Meta-analytic Review." PLOS Medicine 7, no. 7 (2010).

↑

6
Epel E, Daubenmier J, Moskowitz JT, et al. "Can meditation slow rate of cellular aging? Cognitive stress, mindfulness, and telomeres." Annals of New York Academy of Sciences 1172 (2009): 34–53.

↑

7
Brown, Stuart, et al. Play: How it Shapes the Brain, Opens the Imagination, and Invigorates the Soul. (2009): 3-12.

↑

8
Ciccone, MM, et al. "A Glycemic Threshold Of 90 Mg/Dl Promotes Early Signs Of Atherosclerosis In Apparently Healthy Overweight/Obese Subjects." Endocrine, Metabolic & Immune Disorders Drug Targets 11, no. 4 (2012).

↑

9
Dilly, J., et al. "Association of A1C with cardiovascular disease and metabolic syndrome in Asian Indians with normal glucose tolerance." Diabetes Care 31, no. 6 (2007): 1527-32.

↑

10
Epel, E. S., et al. "Stress and body shape: stress-induced cortisol secretion is consistently greater among women with central fat." Psychosomatic Medicine 62, no. 5 (2000): 623-632.

↑

11
Sookoian, S., et al. "Effects of rotating shift work on biomarkers of metabolic syndrome and inflammation." Journal of Internal Medicine 261, no. 3 (2007): 285-292.