Stay on the Path During the Holidays: My Top 5 Indulgences, Rituals, and Healthy Holiday Recipes
I've decided to think and act different Thanksgiving this year, to borrow a phrase from Steve Jobs. Not long ago, I would happily forget everything I knew about healthful eating in favor of overindulging in holiday favorites.
I would overeat carbohydrates and gluten (stuffing! Yorkshire pudding!) and wake up the day after Thanksgiving or Christmas feeling anything but thankful. I would gain 3 to 5 pounds of inflammatory bloat from the food intolerances of dairy, gluten, grains, and sugar. I would feel and act bitchy.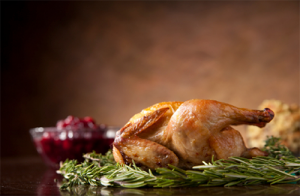 Now that I've changed my food plan to heal my hormones, I have also shifted the way I approach food. I've stopped throwing mindfulness out the window from Thanksgiving until January 1st. I've declared Thanksgiving this year to be bitch-free.
That's right, it's time for a No-Bitching Thanksgiving.
Starting this year, I consider Thanksgiving, Hanukkah, and Christmas important opportunities to nourish my body and spirit – even in the face of temptation at every turn. In terms of taking care of myself, that means more inputs — yoga, guided visualizations, essential oils, massages, and time with girlfriends. In terms of food, this means avoiding sugar, gluten, and refined carbs, and sticking to my "food code" (it's like a moral code for the food you eat). The few moments of gratification I receive from the taste of mashed potatoes or apple pie are not worth the havoc these foods inflict on my hormones and waistline.
Schedule in Your Self Care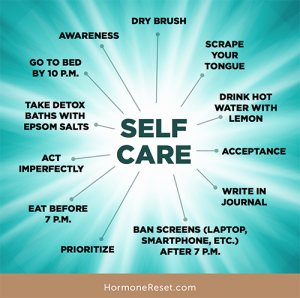 Part of a No-Bitching Thanksgiving is making sure that you get appropriate self care. Not the bare minimum that keeps you from screaming at the kids or getting irritated by your mother, but the dose that makes you feel happy and content in your skin. You declare a time out when you need it, way before you reach your limit. You take care of yourself on a biochemical and hormonal level.
For me, that means . . .
Starting my day with a nutrient-dense shake. It sets the metabolic tone for the day. On Thanksgiving, I add more fat so that I'm less likely to be promiscuous with food later. I add one or two of the following to my standard green protein shake: 2 tablespoons of soaked chia seeds, a handful of macadamia nuts, 1 tablespoon of cacao nibs, 1 tablespoon of MCT (medium chain triglyceride oil), 2 tablespoons of freshly ground flax seeds.
Heading out to yoga. Ninety minutes, I'll emerge from class sweaty and ready to let the small stuff roll right off of me.
Create your "stop doing" list. I used to have a massively long to-do list. But I learned from Danielle Laporte that a "stop doing" list is just as important. If you want to take care of yourself and emerge from the holidays with normal endocrine glands, you need this list. On my list this year: no turkey (that's my husband's job), no complicated recipes (Keep It Simple, Swami), no saving the drama for mama (my kids are totally on board with the "No-Bitching Thanksgiving" and understand that they will not be bitching either).
Plan your splurges. "Plan" is the operative word. Don't just get weak in the moment and eat an extra serving of stuffing, followed by two pieces of pumpkin pie. One splurge but planned, so it's not a last-minute cave of weakness. Be in the eternal present moment with your splurge. Notice the aroma and how it feels on your tongue. Notice when your mouth feel peaks, and stop.
Taking a time out if things get hot in the kitchen. I love the Headspace app. I will just sit and take lung-capacity breaths for 5 minutes, or I'll do one of their many guided visualizations.
Walk in nature after the meal. This is a new ritual, and I love how a walk after a big meal puts a deposit in your bank account. The math of walking after a big meal is that it allows you to metabolize the meal better, and you're more likely to get through the day without your hormones and waistline taking a hit.
Don't Deprive Yourself
All that said, we don't nourish ourselves by abstaining and denying, but by indulging in things that truly feed us. Instead of lamenting all the holiday foods you shouldn't eat, I recommend focusing on the delicacies you can enjoy that are truly nutritive. There are a surprising number of such foods, and they are more decadent than pumpkin pie!
Here are some of my favorites, as well as some variations of traditional Thanksgiving and Hanukah recipes that will leave you feeling fed and festive.
1. Start with the Bird.
Gratify your family with an organic, free-range turkey. Conventionally raised poultry is contributing to an alarming increase in antibiotic resistant microbes, since these animals are fed large doses of antibiotics regularly to fend off diseases that would otherwise disallow birds to live in cramped, overcrowded conditions. It might be more expensive, but you will feel truly thankful with a happy, healthy bird on your table.[1]
2. Heap on Massive Veggies.
Treat yourself and your family to good health as well as good flavors by serving the freshest, most fragrant, organic vegetables you can find. If you live in an area where there are farmer's markets this time of year, visiting the open-air market is a fun family activity and a great way to help you feel connected to your food. You might try using rare or heirloom varieties that you would not usually buy to make your meal feel special. They don't just need to be green – rock some celeriac (celery root), parsnips, cauliflower (mashed cauliflower tastes remarkably similar to mashed potatoes). Aim to fill 80% of your holiday plate with vegetables.
3. Schedule an Oil Change.
I advocate cooking with coconut oil for everyday purposes, but on special occasions I like to splurge on duck fat. The rich savory flavor associated with French cooking adds a gourmet flavor to your holiday dishes.
4. Don't Be Salt Phobic.
One method I use to keep my holiday eating mindful is to qualify my food with little extravagances such as truffle salt. Truffle salt is expensive, (you can spend over $700 on a small jar, although the brand I enjoy is about $20), and it serves as a reminder not to over-salt my food and to help me to think of salt as a luxury. Not to mention, the flavor is exquisite! But almost any sea salt is good, and most people can enjoy 1 teaspoon without a problem (unless you have salt-sensitive hypertension).
5. Pass the Pâté.
For hors d'oeuvre and appetizers, I love to serve artisanal pâtés and salamis. Like duck fat, these indulgences are delectable and extremely satisfying. I recommend treating yourself to fats instead of sugar, because unlike sweets, whole food fat leaves you feeling satiated instead of triggering a response to keep eating– when was the last time you ate an entire log of hard salami versus a third piece of cake? Whole food fat also has some health benefits as opposed to sugar. Vitamins A, D, E, and K are fat-soluble nutrients, and must be consumed with a certain amount of fat in order for the body to absorb them. Think of fat as the little bit of lubricant your body needs in order to make use of the vegetables and meats you consume.[2][3][4]
Dr. Sara's Healthy Holiday Recipes
Turkey with Gluten-Free Stuffing
Ingredients
For the Turkey:
One 12-14 pound organic, free-range turkey
¼ cup Himalayan pink salt or sea salt (for dry brine)
¼ cup rendered duck fat (available at Whole Foods)
¼ cup coconut oil
3 teaspoons truffle salt
3 tablespoons freshly ground black pepper
For the Stuffing:
½ cup coconut oil or ghee
6 egg whites
½ cup coconut flour
¼ cup almond flour
3 tablespoons ground white chia seeds
1 tablespoon baking soda
½ teaspoon salt
¼ cup rendered duck fat
One yellow onion, chopped
3-4 celery stalks, chopped
1 cup chopped Swiss chard
1 cup chicken broth
Handful of fresh sage
1 tablespoon fresh chopped marjoram
1 teaspoon nutmeg
Sea salt or truffle salt and black pepper to taste
Instructions
1. Up to 2 days before cooking, rinse your turkey, pat it dry, and rub the bird inside and out with the Himalayan or sea salt. Place turkey in a dry brining bag, (available at most grocery stores) and place in refrigerator. After a day, massage the juices and salt that has collected in the bottom of the bag back into the bird, and rotate turkey upside down. Return to refrigerator.
2. You can prepare your grain-free bread for the stuffing a few days ahead of time, while your turkey is brining. Preheat oven to 350. Bring ghee or coconut oil to room temperature and beat together with egg whites, coconut flour, almond flour, ground chia seeds, baking soda, and ¼ teaspoon of salt. Bake this mixture in a greased bread pan for 20-30 minutes or until top is golden brown. Set aside.
3. After two days, remove turkey from brine bag and pat dry. Preheat oven to 350.
4. While turkey is coming to room temperature, prepare stuffing. Cut your wheat-free bread into one-inch cubes. Arrange cubes in a single layer on a baking sheet and toast in oven until slightly browned and crispy. Remove from oven and set aside.
5. Heat remaining duck fat in large skillet over medium heat. Sauté onion, celery, chard, herbs and spices in fat. Transfer cooked vegetables to a large bowl, stir in bread cubes and chicken broth.
6. When you are ready to cook your turkey, preheat oven to 375. Mix ¼ cup rendered duck fat, ¼ cup coconut oil, 3 teaspoons truffle salt, and 3 tablespoons freshly ground black pepper together in a small bowl. Carefully separate the skin of your turkey from the flesh and work the fat mixture between the skin and flesh using your hands to massage the mixture as far up on the breast and thigh meat as you can without tearing the skin. Rub remaining mixture on the outside of the skin and inside the cavity.
7. Pack stuffing tightly into turkey cavity and bake at 375 until a thermometer inserted in the tight reads 155 degrees, approximately 1 ½ to 2 hours depending on the size of your bird.
For more healthy holiday recipes, including Garlic Mashed Cauliflower and Dairy-Free Green Bean Casserole, click here.
Beyond the Food
Thanksgiving tends to be a a holiday that is about food, at least superficially, but I try to keep things in perspective on this day. It's only one meal and a meal is not worth pulling my hair out over. Remember what a holiday really means: a chance to relax, lower your cortisol, reset your sleep pattern, and bond with your loved ones for a healthy dose of oxytocin. For more tips on how to have a hormonally balanced season, check out my book, The Hormone Reset Diet. 
Now it's your turn – what are your favorite holiday indulgences, and have you attempted to upgrade them to a healthier version? What are some of your Thanksgiving rituals that keep you on the path of wellness?
---