Why High-Intensity Burst Exercise May Be Better For Your Brain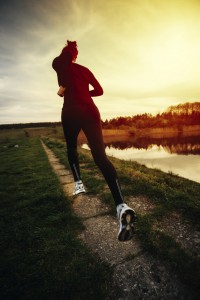 I'm a runner and have always enjoyed the "high" I get from it. I first ran after my freshmen year of college, determined to drop the freshman 15. Then I ran in medical school because it was so efficient and helped me problem solve. Then I ran as a young mother who didn't have much time to exercise — a quick run kept me (more or less) in shape, and provided me both the physical and mental punch that I needed to get through my hectic day. Running is efficient, and it always worked — until I hit 40.
I had always just laced on running shoes and headed out the door. I didn't do anything fancy like fartleks — a form of training that varies the terrain and pace to enhance conditioning. I just ran, around a 10- to 11-minute mile. You know, slow-ish. But is running still the best form of exercise after 40?
At 40, my weight started to climb. I didn't know why, and running didn't help. I was stressed as a working mom and doctor, and soon learned that my cortisol was way too high. Not just from work stress, but from running too. My longer, sustained runs were raising my cortisol and keeping it high. Cortisol is our chief stress hormone, and too much cortisol can actually make us fat and angry — never a good combination. Cortisol is a wear-and-tear hormone, and it was perpetuating inflammation the more I ran.
So I took a break from running and did more adaptive exercise: yoga, Pilates, and barre classes. Then I went back to running, but this time I changed up my routine to include interval training — short bursts of high-intensity sprinting, followed by a few minutes of recovery, then repeat.
Burst versus Chronic Exercise
Interval training, or high-intensity training, is a type of burst exercise.
Burst exercise means short duration done at a high intensity with variability.
Chronic or sustained exercise means continuous exercise with less intensity and little variability. For example, a long run at a steady pace.
More and more research is telling us that burst exercise is better for our health and fitness than longer periods of sustained exercise.1Shiraev, T, "Evidence Based Exercise – Clinical Benefits of High Intensity Interval Training," Australian Family Physician, (Dec 2012), 41(12): ...continue
Both burst and chronic exercise can be aerobic or anaerobic, aerobic being more focused on endurance (running, cycling) and anaerobic more focused on strength (weight-lifting, Pilates, barre).
Burst exercise improves blood pressure, insulin sensitivity, cholesterol profiles, cardiovascular health, and decreases abdominal fat and body weight (while maintaining muscle mass).2"The Basics of High Intensity Interval Training," The American College of Sports Medicine, accessed Feb 8, 2016, ...continue 3"Rev Up Your Workout With Interval Training," Mayo Clinic, accessed Feb 8, 2016, ...continue All things that we love for our bodies.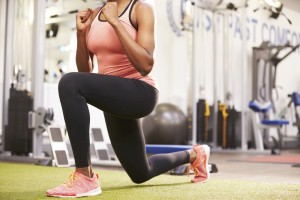 But exercise doesn't just affect our bodies; it also affects our brains. There seems to be an interesting connection between burst exercise and brain benefits.
Scientists have long thought that a pattern of regular exercise increases something called, Brain Derived Neurotrophic Factor (BDNF).4Szuhany, K.L, et al. "A Meta-Analytic Review of the Effects of Exercise on Brain-Derived Neurotrophic Factor," Journal of Psychiatric Research ...continue However, research is showing that a particular type of exercise — burst exercise — elevates BDNF levels more than chronic or low-intensity exercise does.
Why Is BDNF Important?
Neurotrophic factors are a family of proteins (including BDNF) that contribute to the growth and survival of nerve cells. BDNF is found in the brain and spinal cord, and is active at the connections between nerve cells. Those nerve cell connections are called synapses.
All cell-to-cell communication occurs between nerve cells, in the synapses or connections between neurons. Scientists used to think that was all that synapses did. But over the past 40 years neurobiologists have realized that synapses are actually like plastic. They can be molded and changed. This is called synaptic plasticity and means the brain continues to form new neural connections throughout life. BDNF is vital for cognitive performance in the short-term and for promoting synaptic plasticity in the long-term. BDNF helps facilitate neural repair and enhances learning and memory.5Oliff, H. S., Berchtold, N. C., Isackson, P., and Cotman, C. W. "Exercise-induced regulation of brain-derived neurotrophic factor (BDNF) ...continue 6Yang, J. L., Lin, Y. T., Chuang, P. C., Bohr, V. A., and Mattson, M. P., "BDNF and Exercise Enhance Neuronal DNA Repair By Stimulating ...continue 7Pang, P. T., and Lu, B., "Regulation of Late-Phase LTP and Long-term Memory in Normal and Aging Hippocampus: Role of Secreted Proteins tPA and ...continue You could call BDNF "MiracleGro" for the brain.
I learned from my own genetic testing that I have a mutation in the BDNF gene. That means I need to find ways to increase BDNF more than in someone with the normal gene in order to preserve my cognitive function, memory, and emotional regulation.8Mu, J.S., et al. "Deprivation of Endogenous Brain-Derived Neurotrophic Factor Results in Impairment of Spatial Learning and Memory in Adult ...continue 9Cirulli, F., et al. "Intrahippocampal Administration of BDNF in Adult Rats Affects Short-term Behavioral Plasticity in the Morris Water Maze and ...continue
BDNF is especially important to our brain health as we age. I've just completed the manuscript for my next book about aging and how to increase healthspan, the period of time during which you feel fabulous and free of disease. Researchers have found that BDNF levels decline progressively with age.10Lommatzsch, M., et al. "The Impact of Age, Weight and Gender on BDNF Levels in Human Platelets and Plasma," Neurobiology of Aging 26 (2005): ...continue At the same time that BDNF levels decrease, the volume of the hippocampus (primary center for emotion and memory) also decreases.11Erickson, K.L., et al. "Brain-Derived Neurotrophic Factor is Associated with Age-Related Decline in Hippocampal Volume, Journal of Neuroscience 30, ...continue In fact, in some neurological diseases, such as Huntington's and Alzheimer's disease, BDNF levels are low or deficient.12Laske, C., et al. "Decreased Brain-Derived Neurotrophic Factor (BDNF) and B-Thromboglobulin Blood Levels in Alzheimer's Disease," Journal of ...continue
As scientists look at aging and neurological disease formation, and the issues relating to declining cognitive abilities tied to those populations, they can't help but ask the question, "Could increasing BDNF levels naturally through something as simple as exercise have benefits relating to cognitive functionality?"
Best Exercise for Higher BDNF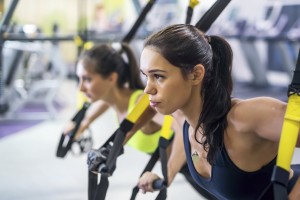 Several studies conclude that high-intensity burst exercise leads to higher BDNF in both men and women. One study that focused specifically on the relationship between exercise intensity and BDNF concentration levels found no significant changes in BDNF levels after the low-intensity exercise, but significantly elevated BDNF levels after high-intensity exercise.13Ferris, L.T., et al. "The Effect of Burst Exercise on Serum Brain-Derived Neurotrophic Factor Levels and Cognitive Function," Medicine and ...continue
Another study, performed on stationary bikes, found that high-intensity interval training evoked greater BDNF increases than intense continuous exercise.14Saucedo-Marquez, C.M., et al. "High Intensity Interval Training Evokes Larger Serum BDNF Levels Compared to Intense Continuous Exercise." Journal ...continue Other studies have also shown that low-intensity exercise did not increase BDNF levels.15Rojas Vega, S., et al. "Burst BDNF and Cortisol Response to Low Intensity Exercise and Following Ramp Incremental Exercise to Exhaustion in ...continue
These increases in BDNF levels are transient, meaning they return to a baseline level within minutes to hours after exercise. But those increases in BDNF are associated with memory improvements. 16Piepmeier, Aaron T., et al. "Brain Derived Neurotrophic Factor (BDNF) as a Potential mechanism of the Effects of Burst Exercise on Cognitive ...continue I guess that means we should all be using treadmill desks and sprinting immediately before big decisions, meetings, or exams!
What BDNF Research Means for You
Though the long-term benefit of this temporary bump is less clear, the data thus far indicate that high-intensity burst exercise is the way to go. In fact, the research even represents some exciting possibilities for potentially helping patients with Alzheimer's disease, Huntington's disease, and other neurological disorders. Efforts to find natural ways to increase BDNF, especially for older individuals, could help in preserving cognitive function and fending off dementia. Scientists are also looking at developing drugs that can mimic BDNF.
Final Thoughts: Given that high-intensity burst exercise has other known health benefits, and doesn't have the chronic cortisol raising effects as continuous, moderate exercise, burst exercise may be the best fitness option for you. Get a healthier body today, and do your brain a favor too. To learn more about ways to upgrade your brain and the way your DNA is expressed, click here to join my notification list for my new online course, debuting in mid-2016!
Note: Discuss any new exercise program with your physician or functional medicine professional. He or she should have you take a fitness test or complete a physical activity readiness questionnaire (PAR-Q) before you start a new program.

About Sara Gottfried MD
Sara Gottfried, MD
is the 
New York Times
 bestselling author of 
The Hormone Cure
 and
The Hormone Reset Diet
. After graduating from Harvard Medical School and MIT, Dr. Gottfried completed her residency at the University of California at San Francisco. She is a board-certified gynecologist who teaches natural hormone balancing in her novel online programs so that women can lose weight, detoxify, and slow down aging. Dr. Gottfried lives in Berkeley, CA with her husband and two daughters.
Leave Your Facebook Comments Below
comments
| | | |
| --- | --- | --- |
| 1. | ↑ | Shiraev, T, "Evidence Based Exercise – Clinical Benefits of High Intensity Interval Training," Australian Family Physician, (Dec 2012), 41(12): 960-962. http://www.ncbi.nlm.nih.gov/pubmed/23210120 |
| 2. | ↑ | "The Basics of High Intensity Interval Training," The American College of Sports Medicine, accessed Feb 8, 2016, http://certification.acsm.org/blog/2015/may/the-basics-of-high-intensity-interval-training. |
| 3. | ↑ | "Rev Up Your Workout With Interval Training," Mayo Clinic, accessed Feb 8, 2016, http://www.mayoclinic.org/healthy-lifestyle/fitness/in-depth/interval-training/art-20044588 |
| 4. | ↑ | Szuhany, K.L, et al. "A Meta-Analytic Review of the Effects of Exercise on Brain-Derived Neurotrophic Factor," Journal of Psychiatric Research 60, no. 9 (2015): 56-64. |
| 5. | ↑ | Oliff, H. S., Berchtold, N. C., Isackson, P., and Cotman, C. W. "Exercise-induced regulation of brain-derived neurotrophic factor (BDNF) transcripts in the rat hippocampus," Brain Research. Molecular Brain Research. (1998) 61, 147–153. http://journal.frontiersin.org/article/10.3389/fnhum.2014.00985/full#B92 |
| 6. | ↑ | Yang, J. L., Lin, Y. T., Chuang, P. C., Bohr, V. A., and Mattson, M. P., "BDNF and Exercise Enhance Neuronal DNA Repair By Stimulating CREB-Mediated Production of Apurinic/Apyrimidinic Endonuclease, Neuromolecular Medicine (2014) 16, 161–174. http://journal.frontiersin.org/article/10.3389/fnhum.2014.00985/full#B92 |
| 7. | ↑ | Pang, P. T., and Lu, B., "Regulation of Late-Phase LTP and Long-term Memory in Normal and Aging Hippocampus: Role of Secreted Proteins tPA and BDNF. Ageing Research Reviews 3, (2014) 407–430. http://journal.frontiersin.org/article/10.3389/fnhum.2014.00985/full#B60 |
| 8. | ↑ | Mu, J.S., et al. "Deprivation of Endogenous Brain-Derived Neurotrophic Factor Results in Impairment of Spatial Learning and Memory in Adult Rats," Brain Research 835 (1999): 259-265 |
| 9. | ↑ | Cirulli, F., et al. "Intrahippocampal Administration of BDNF in Adult Rats Affects Short-term Behavioral Plasticity in the Morris Water Maze and Performance in the Elevated Plus-Maze," Hippocampus 14 (2004): 802-807. |
| 10. | ↑ | Lommatzsch, M., et al. "The Impact of Age, Weight and Gender on BDNF Levels in Human Platelets and Plasma," Neurobiology of Aging 26 (2005): 115-123. http://journal.frontiersin.org/article/10.3389/fnhum.2014.00985/full#B24. |
| 11. | ↑ | Erickson, K.L., et al. "Brain-Derived Neurotrophic Factor is Associated with Age-Related Decline in Hippocampal Volume, Journal of Neuroscience 30, (2010a): 5368-5375. doi: 10.1523/JNEUROSCI.6251-09.2010 |
| 12. | ↑ | Laske, C., et al. "Decreased Brain-Derived Neurotrophic Factor (BDNF) and B-Thromboglobulin Blood Levels in Alzheimer's Disease," Journal of Thrombosis and Haemostasis 96 (2006): 102-103. |
| 13. | ↑ | Ferris, L.T., et al. "The Effect of Burst Exercise on Serum Brain-Derived Neurotrophic Factor Levels and Cognitive Function," Medicine and Science in Sports and Exercise 39, no. 4 (2007): 728-734. |
| 14. | ↑ | Saucedo-Marquez, C.M., et al. "High Intensity Interval Training Evokes Larger Serum BDNF Levels Compared to Intense Continuous Exercise." Journal of Applied Physiology (2015): jap-00126. |
| 15. | ↑ | Rojas Vega, S., et al. "Burst BDNF and Cortisol Response to Low Intensity Exercise and Following Ramp Incremental Exercise to Exhaustion in Humans." Brain Research 1121, no. 1 (2006): 59-65. |
| 16. | ↑ | Piepmeier, Aaron T., et al. "Brain Derived Neurotrophic Factor (BDNF) as a Potential mechanism of the Effects of Burst Exercise on Cognitive Performance," Journal of Sport and Health Science, Volume 4, issue 1 (2015): 14-23. http://www.sciencedirect.com/science/article/pii/S2095254614001161. |