‎5 Secrets to Turn Back the Clock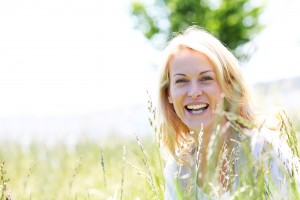 "I don't mind talking about just about anything," forty-three-year-old Melanie confessed, "but here's something I hate bringing up because it feels so uncontrollable: wrinkles. I've been getting…" She paused – lowering her tone to a whisper as if confessing to a priest – "chemical peels."
I'd been treating Melanie for almost a year when she made this confession. During that time, we'd delved into hormonal imbalances and how her formerly do-it-four-times-a-week sex life had dissolved into a near-zero grind. We'd incorporated a well-designed exercise program, and she'd lost about twenty-five formerly refusing-to-vacate pounds of belly fat. In addition to keeping to her exercise routine, Melanie didn't smoke, slept pretty well, and avoided sugar, yet those pesky wrinkles had only increased. And she even knew to stay away from those promising "anti-aging" creams because she'd learned they were full of toxicities.
Like many of my female patients, Melanie had fallen victim to the billion-dollar, depend-on-repeat-customers skincare industry, with her use of chemical peels.[1] Yet they weren't getting the results she wanted. Unfortunately, the popular procedure of chemical peeling inflames skin in order to peel off the outer layer, forcing a new outer layer to form. This exposed Melanie to the same harmful toxins she dutifully avoided in skincare products – chemical peels cause skin irritation, skin discoloration, and even permanent scarring.[2] 
At the same time, like Melanie, I get it: Wrinkles create a very visible constant reminder about aging's miseries. "I love waking up to that squinty look beneath my eyes," said no one ever. 
Why Do Skin Wrinkles Happen? 
Though they appear superficial, wrinkles begin deep at the cellular level, when your mitochondria—those tiny power factories inside your cells—become damaged. Hormonal imbalances, chronic stress, smoking, eating junk food, sleep deprivation, ultraviolet (UV) rays, environmental toxins, and chemical exposure also dial up cellular damage, which damages mitochondria, reduces collagen, and compromises skin integrity. [3] Facial skin also contains more estrogen receptors than anywhere else on the body, so estrogen imbalances initially appear as fine, dry, thinning lines due to decreased collagen and poor elasticity.[4] Altogether, this whole mess results in more wrinkles. 
Commercial anti-aging creams might diminish wrinkles in the short term, but in the long term they ironically exacerbate skin wrinkle formation because they contain nasty toxins that spike free radical damage and disrupt hormones.[5] While skin injections and chemical fillers temporarily increase collagen and elasticity for tighter, more youthful skin, these treatments also trigger free radical damage, ultimately creating more harm than good. 
What Can Be Done to Slow Down Wrinkles?

"So what does reduce wrinkles without long-term damage?" Melanie inquired. The key is healthy, thriving cells that receive optimal oxygen and nutrients, resulting in less damage and even vibrant, healthy skin.[6]
I offered Melanie these seven strategies for a smoother, younger look. 
When Melanie returned three months later, her skin had a youthful glow and she noticed a reduction in wrinkles, despite giving up her beloved chemical peels after I subtly reprimanded her.
"I've got to credit your recommendations, although I'd love to attribute it to my rediscovered sex life," she said, with a wry smile. "I've learned that despite what manufacturers claim, there is no magic potion to reduce wrinkles. Reducing them comes from the inside, and not some exorbitant skincare procedure."
I couldn't have said it better. What inside-out strategy would you add to reduce wrinkles and maintain glowing skin? Share your thoughts below, or on my Facebook page.
For more tips on aging gracefully, pre-order your copy of my upcoming book, Younger: A Breakthrough Program to Reset Your Genes, Reverse Aging, and Turn Back the Clock 10 Years.
References
[1] Rinaldi, A. "Healing beauty? More biotechnology cosmetic products that claim drug-like properties reach the market." EMBO Rep, 9(11)(2008): 1073–1077.
[2] Nikalji, N., et al. "Complications of Medium Depth and Deep Chemical Peels." J Cutan Aesthet Surg 5, no. 4 (2012): 254–260. doi: 10.4103/0974-2077.104913
[3] Poljšak, B., Dahmane, R. "Free Radicals and Extrinsic Skin Aging." Dermatol Res Pract (2012): 135206.
[4] Stevenson, S., Thornton, J. "Effect of estrogens on skin aging and the potential role of SERMs." Clin Interv Aging 2, no. 3 (2007): 283–297.
[5] , E. et al. "Endocrine-Disrupting Chemicals: An Endocrine Society Scientific Statement." Endocr Rev 30, no. 4 (2009): 293–342. doi: 10.1210/er.2009-0002.
[6] Van Remmen H, Richardson A. "Oxidative damage to mitochondria and aging." Exp Gerontol, 36(7)(2001):957-68.
[7] Schagen, S. et al. "Discovering the link between nutrition and skin aging." Dermatoendocrinol 4, no.3 (2012): 298–307. doi: 10.4161/derm.22876
[8] Ibid.
[9] Traish, A.M., et al. "Dehydroepiandrosterone (DHEA)–a precursor steroid or an active hormone in human physiology." J Sex Med 8, no.11 (2011):2960-82; quiz 2983. doi: 10.1111/j.1743-6109.2011.02523.x.
[10] Ganceviciene,R. et al. "Skin anti-aging strategies." Dermatoendocrinol 4, no.3 (2012): 308–319. doi: 10.4161/derm.22804
[11] Darr, D., et al. "Effectiveness of antioxidants (vitamin C and E) with and without sunscreens as topical photoprotectants." Acta Derm Venereol 76, no.4 (1996):264-8. 
[12] Calder, P. "Omega-3 Fatty Acids and Inflammatory Processes." Nutrients 2, no.3 (2010): 355–374. doi: 10.3390/nu2030355
[13] Schagen, S. et al. "Discovering the link between nutrition and skin aging." Dermatoendocrinol 4, no.3 (2012): 298–307. 
[14] Tran, D. et al. "An antiaging skin care system containing alpha hydroxy acids and vitamins improves the biomechanical parameters of facial skin." Clin Cosmet Investig Dermatol 8, (2015): 9–17. doi: 10.2147/CCID.S75439
[15] Pyun, HB, et al. "Effects of Collagen Tripeptide Supplement on Photoaging and Epidermal Skin Barrier in UVB-exposed Hairless Mice." Prev Nutr Food Sci 17, no.4 (2012): 245–253. 
[16] Cohen, M. "Tulsi – Ocimum sanctum: A herb for all reasons." J Ayurveda Integr Med 5, no.4 (2014): 251–259. doi: 10.4103/0975-9476.146554
[17] Chen, Y. Lyga, J. "Brain-Skin Connection: Stress, Inflammation and Skin Aging." Inflamm Allergy Drug Targets 13, no.3 (2014): 177–190. doi: 10.2174/1871528113666140522104422 
[18] Ganceviciene, R., et al. "Skin anti-aging strategies." Dermatoendocrinol 4, no.3 (2012): 308–319.
[19] Dusek, JA, Benson, H. "Mind-body medicine: a model of the comparative clinical impact of the acute stress and relaxation responses." Minnesota Medicine 92, no.5 (2009):47–50.