Recipe: Chicken Curry in a Hurry
Ingredients
1 lb of boneless chicken thighs
1 can of coconut milk (BPA free can)
1 cup chicken broth or filtered water with some sea salt
3 tbsp. curry paste
1 onion
4 heads bok choy
½ head cabbage
2 handfuls spinach
Instructions
Pour coconut milk and broth into a crock pot.
Add curry paste. Stir until disolved.
Cut chicken thighs into one inch cubes and add them to the pot.
Chop all vegetables into bite sized pieces and add them to pot.
Cover and cook on low for 4 hours.
Garnish with fresh cilantro, a squeeze of fresh lemon or a tbsp. of grated fresh ginger for even more of a kick.
https://www.saragottfriedmd.com/chicken-curry-in-a-hurry/
© 2015 Gottfried Institute. All rights reserved.
 For more yummy recipes, download my free
Hormone Reset Community Cookbook below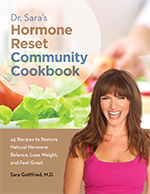 Leave Your Facebook Comments Below
comments